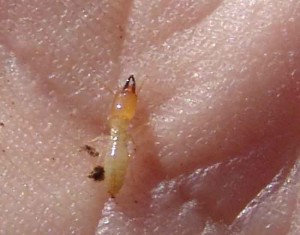 All of us have felt like our income is being eaten away by taxes and expenses, but I doubt any of us have had our savings actually eaten! That's what happened to $222,000 that was stored in a steel chest at a bank in India. A bank manager who discovered that the tiny creatures had somehow gotten into the steel chest and chewed up bundles of money was baffled as to how it could happen. A case of negligence has been registered against the bank.
Those little creatures have been responsible for so much damage that many homeowners have contracts with pest control companies to guarantee that they are not "eaten out of house and home." In recent years, the historic Church of the Holy Cross in Sumter County South Carolina suffered devastating damage to their buildings due to termites. Built in 1852 by slaves and beautifully preserved to it's original design, restoration following termite damage cost $2.4 million. Thankfully, due to fundraisers and the benevolence of people and groups it has been restored.
Scripture warns us that it is the "little foxes that ruin the vineyards" (So. 2:15). Truly, it is often the little, seemingly insignificant matters that determine victory or defeat. Left "untreated," the little habits, the secret thoughts, the small shortcuts eat away at our character until the foundation crumbles.
Little choices we make each day enable us to develop habits that determine our destiny. It was Emerson who penned these wise words:
Sow a thought and you reap an action; sow an act and you reap a habit; sow a habit and you reap a character; sow a character and you reap a destiny.
Successful people have built their lives on excellence in their field. Achieving excellence doesn't occur out of nowhere. It comes from daily discipline to be our best in the little things. Ultimately, attention to the little things of life builds our character and protects our foundation.
This is why God puts so much stress on sincerity of heart. It is the almost imperceptible matters of the heart that reveal who we are and who we are becoming. The future of our families, our churches, and our lives may be predicted by our attention to detail.
To reach our God-given potential will not only require His amazing grace, but also our faithful obedience. Since none are without sin, we all know that whatever faithfulness we may achieve is because of Him. Nevertheless, He expects us to "train ourselves to be godly" (1Tim. 4:7 NIV).
"Whoever can be trusted with very little can also be trusted with much, and whoever is dishonest with very little will also be dishonest with much."
-Jesus (Luke 16:10 NIV)