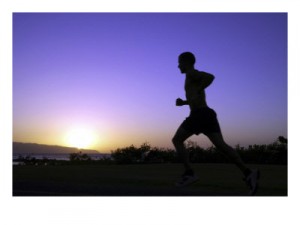 While in high school I had unusual drive to succeed in sports even if I was only average in the classroom. From one sport to the next, I was determined not only to make the team, but also make a difference on the team. To endure the pain of running cross-country I would repeat a verse of Scripture in my mind.
"Do you not know that in a race all the runners run, but only one gets the prize? Run in such a way as to get the prize" (1 Cor. 9:24).
At the time, I did not understand the context of the passage. What I did know was that only one person was going to win the race and if I was going to be the one, I'd better train harder than anyone else. I took the verse out of context and made it fit my circumstances.
But God had a lot more in mind than a ribbon, medal, or some temporary trophy when He led Paul to write these words.  The goal, the dream, the "prize" for which Paul devoted himself to winning was completing the mission given to Him by God – the clear communication of the Good News of Jesus Christ to the world.
Like an athlete, Paul was in "strict training" (v.25) and was not content with going through the motions (v.26).
No, I beat my body and make it my slave so that after I have preached to others, I myself will not be disqualified for the prize  (1Cor. 9:27 NIV).
Using a figure of speech, Paul basically said, "I keep my body – I keep myself – under control. I rule it; it does not rule me." This self-discipline is what everyone needs to overcome challenges and achieve God's best for their lives.
Captain Ray Baker flew for the Strategic Air Command during the Vietnam War. He developed discipline through his military training. Serving as a pilot in the Air Force required extraordinary discipline. This was especially true serving in a war zone.
When he came home to California on a furlough, his nephew, Martin Baker took him out to eat at a Mexican restaurant. As they were eating and enjoying dinner together Captain Baker suddenly dropped his utensils and ran out of the restaurant.
Martin followed him out the door and caught up to him in the parking lot where he asked him where he was going. "I was looking for my plane," he replied. He was actually looking for his B-52. When Martin asked him why he suddenly ran out to find his plane he said, "I heard the buzzer!" Then Martin realized that there was a buzzer in the restaurant above their table that was used to let the waiters know a meal was ready. When it rang, Captain Baker's discipline took over and he reacted as he was trained.
Discipline is necessary for success in life. A lack of discipline as a pilot could easily cost a pilot his life and the lives of others as well. Being undisciplined as a student will cause grades to decline. Eating without discipline will cause our health to decline. An undisciplined life is a vulnerable life rather than a victorious life.
Paul told Timothy,
"Train yourself to be godly. For physical training is of some value, but godliness has value for all things, holding promise for both the present life and the life to come" (1Tim. 4:7b-8 NIV).
Many times when I was young I sacrificed in an attempt to run faster, play better, be stronger, earn a letter, impress a girl, or win a scholarship. Now that I am older I continue to exercise, but for different reasons. Now I work out in order to be healthy, burn off stress and compete in a mens' baseball league. While these goals are good and exercise is important, we should ask ourselves is it not more important to discipline ourselves spiritually in order to follow Christ more closely?
We may not be one of our military's elite, but if we are going to avoid being a "casualty" of complacency we must develop our discipline.  We may not be training for the next Olympics, but if we want to be a real "competitor" for Christ rather than simply being a part of the "crowd" we must devote ourselves to growing through discipline.
Consider this question posed by best-selling author, Joe Girard on Twitter, "What choices on a daily basis set you apart from your colleagues?"[1] Or, if I may rephrase it, What choices on a daily basis set you apart as one ready to join God in His work?
In order for us to respond immediately to the "voice" of God as Captain Baker responded to the sound of the bell, we must make daily choices that develop a disciplined life. A drive that is disciplined is focused and fruitful.

---
[1] Girard, Joe. Twitter; September 17, 2011.