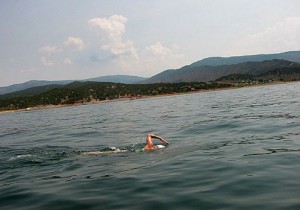 At 7:45pm August 8, 2011, Diana Nyad dove into the water off the shores of Cuba on her second attempt to swim the 103-miles to the United States. A marathon swim in the ocean would be a monumental challenge for any athlete, but for the rest of us just the idea would be laughable. But not for Diana. She had drive.
Her goal was to be the first one to make the swim without a shark cage and she expended every ounce of her strength and resources to make the attempt. She had been training for two years by swimming six to twelve hours a day. A goal this challenging could not be attempted alone so she assembled a team of 30 – many of whom were specialists – to help her throughout the swim. Before she could even get into the water and begin her attempt there were huge bureaucratic hurdles to overcome. Ultimately, she had to be willing to risk her life. Her drive revealed itself in her persistence as well as the price she was willing to pay.
Nyad and everyone who seeks to accomplish a great task must have a deep desire; a drive from within, to complete an objective or reach a goal. But what is necessary to have this determination? What are the necessary ingredients to a healthy drive? Can drive be developed?
Developing Drive
Begin with a dream – What would motivate Nyad to attempt such a feat? In her case, it began with a dream. The 61-year-old said she has been dreaming of this all her life. Not every dream is worthy of investment. A dream that does not originate with God is not a dream – it is a silly fantasy at best and a nightmare at worst. "Delight yourself in the LORD, and He will give you the desires of your heart" (Ps. 37:4 ESV).
Reach for what is worthy – Life is bigger than us. Other people matter. It is not all about you. Don't waste precious resources on goals that are selfish and only provide a short-lived reward. Ask: "Does my dream bring glory to Christ?" If you can't honestly say, "yes," then it is not worthy.
Consider the consequences of failure – Truett Cathy, the president and founder of Chic-Fil-A wrote a book entitled, It is Easier to Succeed than to Fail. If your drive to accomplish something does not take into account the cost of failure it may be because your goal doesn't really matter. But a worthy goal that is bigger than yourself will create an innate drive because failure is unacceptable. "However, I consider my life worth nothing to me, if only I may finish the race and complete the task the Lord Jesus has given me—the task of testifying to the gospel of God's grace" (Acts 20:24 NIV).
Answer His call – When you know that your goal is a part of His plan for your life you can withstand incredible challenges because you know God will enable you to accomplish His will. "He Who calls you is faithful; He will surely do it" (1 Thes. 5:24 ESV).
Accept His plan – When you look at the ultimate aim of your life can you say, "I was born for this"? When you are following His plan and not your own you are a part of His epic adventure. Finding satisfaction in Him is your destiny. "For I know the plans I have for you," declares the LORD, "plans to prosper you and not to harm you, plans to give you hope and a future" (Jer. 29:11 NIV).
God has designed us in such a way that we find fulfillment in challenges. Reaching for goals and straining towards accomplishments beyond ourselves brings out the best in us. Don't settle for less than His will for your life.

© Mark Bordeaux